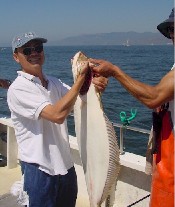 So, you thought "WWW" stood for the World Wide Web.  Welcome to my website. This is me with the 33 pound halibut that I caught on a party boat just outside of San Francisco Bay a few years ago.  I was fishing that day with my fishing buddy and coworker from Honeywell. We were using frozen anchovies to catch the halibut. Deep sea fishing is a lot of fun, and is a nice way to spend the day.  Depending on the season, we would also fish for sea bass, snapper, cod, and salmon.

I am a Software Configuration Manager with many years experience in the software industry.  I spent 20 years at Honeywell-Measurex developing and managing software for process control applications. I am currently at
St. Jude Medical
managing the software build and release processes for their Automated Testing group. St. Jude Medical makes medical devices for the treatment of heart defects, such as heart valves, pacemakers and implantable cardioverter defibrillators (ICDs).
I live in San Jose, CA, but am originally from San Francisco. I have a B.S. degree in Computer Science from UCSB, and an MBA from Santa Clara University.  As you can tell from my website, I enjoy working in stained glass and mosaics, and volunteering with the Scouts. The stained glass is a fun and relaxing hobby. Working with the Cub Scouts gives me a chance to have fun with the kids, and I have an opportunity to pass on some useful ideas to other scouters. My other hobbies include collecting antique toys (diecast cars), and Disneyana (Winnie-the-Pooh, Mickey Sorcerer's Apprentice)

Please sign my Guestbook if you like my website, or have any questions or comments on anything contained on the site.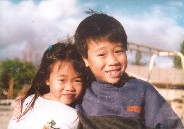 This is one of my favorite pictures of my kids when they were 2 and 4 years old. Nathaniel is  a freshman at the University of Southern California (USC Trogans) majoring in International Relations. He is a nationally ranked debater, and has competed in local, state and national tournaments. He was in a youth bowling youth league up until a few years ago.  His highest game is 298 and highest series is 780. Allison is a junior at St. Francis High Scool. She is an accomplished artist and attends weekly art classes at an art studio. She has had many of her art pieces exhibited at local community art shows. Her favorite medium is acrylics on canvas.  She also enjoys rock climbing, and takes climbing class at Planet Granite.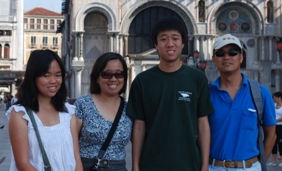 My wife Becky is a Math teacher at
West Valley College
. She teaches all levels of Math, from Alegbra to Calculus and Statistics. We both attended UCSB, and met as undergrads.  Becky leads the childrens choir at Sunday mass and plays piano for one of the music groups.in our church.  She also enjoys needlework, and making quilts.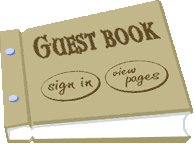 Copyright 2006-2009, Wesley Wong, All Rights reserved


This is a picture of the 24"x24" panel that I made when we got married. It has the double happiness symbol merged with the yin-yang symbol, and is surrounded with our names, and two love birds. To see more of my glassworks, see my
Stained Glass page
.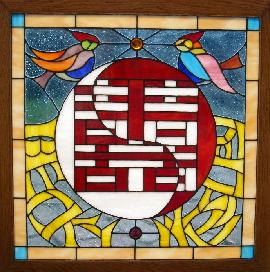 We recently toured the Mediterranean with 2 other families, as a send-off for Nathaniel and his 2 friends from high school before they started college. We spent 3 days in Rome, and 12 days on a cruise through Italy, Barcelona, and Southern France. Checkout our photos in the video slideshow.